About Us
Schnauzers of all sizes have been a part of the Hopf family since the 1960s and they have travelled the world with us as we moved from Germany to Australia, Hong Kong, the USA and back to Australia again! The first pepper & salt Giant Schnauzer joined us in 1989 and we have been breeding these wonderful dogs since 1997. We are passionate about preserving the pepper & salt Giant Schnauzer for future generations and have imported dogs and frozen semen from Germany, Sweden, Hungary, UK and USA. We enjoy showing our dogs at confirmation shows and training them in obedience and other dog sports. Above all, our giants are our much loved companions and family members! All our dogs are health tested and we strive to widen the genepool through careful planning of our future breeding program and with the aid of genetic diversity testing (dna).
Yvonne and Volker live on the Sunshine Coast, Queensland with their Giants "Mooni" (Ch Munchener Misty Moonshado), "Prima" (Gr Ch Silver Senator Kaoma Night (imp Hungary)) and "Schatzi" (Ch Munchener Silverschatz von Mondo). Their daughter Feli lives in Canberra with her Giants "Jeanie" (Ch Munchener Jeanie Jumaana CD RN BH), "Qira" (Munchener Qira von Moonshado RN) and "Jenga" (Jenga vom Moisburger Berg (imp Germany)).
Photos: (left) Yvonne and Volker and the Munchener pack c. 2000, (middle) Yvonne and Prima, and (right) Feli and Jeanie.
Below is a history of how the Munchener kennel came to be written by Yvonne. It's still a work in progress... so check back again from time to time :)
Why the name "Münchener"?
Firstly because in the early 1900's there were many Giant Schnauzers or "Riesenschnauzer" in the Munich area and they were called Münchener Schnauzers and secondly because we used to live there.
To save confusion first let me explain that I, Yvonne, am Australian and met my husband, Volker, by chance when we were both holidaying in Greece on the island of Mykonos in 1964. He was at the University of Munich doing a PhD in inorganic chemistry and I was working as a biochemist at a nearby research institute. Munich is the capital of Bavaria and the home of all Schnauzers and as the years went by we added 3 Schnauzers, one of each size, and 3 children to our family.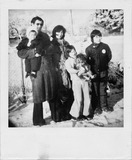 Photo (left): The family in 1975 with our pepper & salt Miniature Schnauzer "Anja" and black Standard Schnauzer "Shelly" (at my feet)
We moved to Sydney, Australia 18 years later in 1981 when the firm Volker was working for opened a branch there. Because of the complicated quarantine regulations at that time, we made the hard decision not to bring our two old dogs with us. Due to quarantine regulations at that time, it would have meant 9 months of separation in kennels plus boarding in the UK first, so they went to live with friends instead.
Photo (right): The family with our two Miniature Schnauzers in 1979.
After arrival in Sydney, it wasn't long before we found a Standard Schnauzer, Sascha (Moorshaw Agakhan), to fill the gap in our family. Derek and Cherry Shaw, who bred Sascha also had a wonderful pepper & salt Giant Schnauzer, Ch Temerine Murphy whom they'd brought out from England with them in 1978. He was the first pepper & salt Giant in Australia. The first black Giant, Ch Odivane Vayeren Velvet was also imported from England in 1978. Murphy was later mated to another UK import, the black Ch Odivane Pollyanna CDX, resulting in pepper & salt and black pups. The last of Murphy's progeny died in 1991.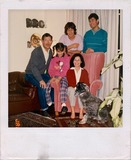 Photo (left): The family in 1987 with our pepper & salt Standard Schnauzer "Sascha"
In 1985 we were transferred to Hong Kong for 3 years. Our vet there asked if Sascha would appear on a children's programme featuring unusual dogs. There was also a mini and a very well behaved female pepper & salt Giant Schnauzer (owned by an English lady whose name I unfortunately don't know).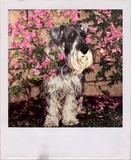 Photo (right): Our Standard Schnauzer "Sascha" Moorshaw Agahkan
We were again transferred, and January 1989 found us in Fullerton, Orange County, California, and of course Sascha went too. It was there we found our first pepper & salt Giant "Max" ( Ch Herkules vom Ullahof). He was bred by Mrs Ursula Keller from two German imports from the von Graf Arko Platz kennels and his dam's sire was the famous Ch Adonis van de Havenstad. Max was our daughter Feli's special dog and it was with him that she started her interest in obedience training. Sascha was my dog and being a very stuborn Schnauzer felt it was far beneath him to do anything a younger member of the family asked him.
By 1991 we were back in Sydney and after 9 months separation, a very depressed Sascha and a skinny, hyperactive Max rejoined us. To comply with quarantine entry to Australia requirements, Max and Sascha were first sent to Hawaii where they spent 3 months in quarantine and then had to be be boarded privately for 1 month before they were eligible to leave for Australia, as dogs could not transfer directly from one quarantine facility to another. After arrival in Sydney they spent another 5 months in quarantine. We were only allowed to visit for 2 hours once a month. The regulations have since been made somewhat easier with visits permitted several times per week.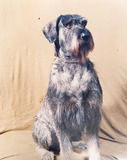 Photo (right): Our first pepper & salt Giant Schnauzer "Max" Aust Ch Herkules vom Ullahof CGC (imp USA)
As Max was the only p/s Giant in Australia I was persuaded to show him. There was talk at the time that the p/s Giants could become extinct by the year 2000. We wanted to help prevent this and make sure that we and others could have these beautiful dogs around us for our lifetime, so we started looking for a mate for him. Before the advent of the internet this was quite difficult.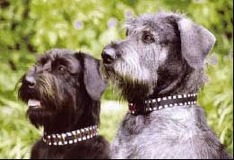 Photo (left): Max with his daughter "Ellie" Aust Ch Reisenhund L Munchena CDC
There are no restrictions in Australia preventing cross colour mating and so, in the meantime, Max had sired a litter with a beautiful, Best in Show winning BLACK bitch (Ch Jokybija Cillas Precious), all the pups were black of course, but carrying the pepper & salt gene. We kept one of his daughters, our "Ellie" (Ch Reisenhund L Munchena). Another daughter from this litter, Reisenhund My Girl is the mother of Tom ( Wojewoda Champagne Pop) who sired our J litter and also several litters in Germany (via frozen semen) .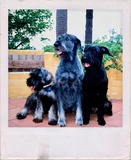 Photos (right): And then there were three. "Mitzi" Aust Ch Nixador Prima Donna (imp UK) with Max and Ellie as a pup on our balcony in Collaroy, Sydney; and in quarantine.
We finally settled on the Nixador kennel in England to import a female pepper & salt Giant to Australia. It was about two years and many phone calls at odd ( for us ) hours later before the late Mrs Thea Jeffreys had a pup she felt happy about sending us. This was our "Mitzi", Ch Nixador Prima Donna (imp UK).
The Nixador litter before Mitzi was born produced 7 males and one female and the late Bob and Judy Hales, who had been waiting for a pup fom Max, decided to import one of these males, Aust Ch Nixador Voyager (imp UK) "Luke" . They established the Sanfteriesen kennel (and later had several litters based on the lines of their French bitch Ch Pride of Champagne des Hauts de Longuante).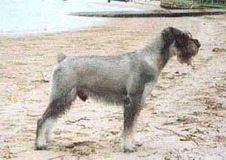 Photo (left): "Luke" Aust Ch Nixador Voyager (imp UK) imported to Australia by Bob and Judy Hales and father of the Munchener A litter
We mated Luke with our Ellie (Aust Ch Reisenhund L Munchena, black but carrying the pepper & salt gene) and this resulted in our Munchener A litter, born 11th July 1997. There were eleven pups: five pepper & salt and 6 black. "Buffy" (Aust Ch Munchener Affra von Elle CD) and "Sissi" (Aust Ch Munchener Primissima v L) stayed in our family.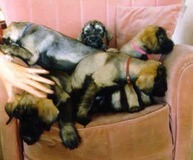 Photo (right): The Munchener A litter: 6 black puppies and 5 pepper & salt.
Of the pepper & salt puppies, three were a "red" pepper & salt. Buffy and Sissi had nice pepper & salt jackets, however, Sissi lost her dark mask as she became older. When undertaking colour cross matings it is not possible to see what other colours and mask related genes the black line is carrying as the black colour is dominant.
Mating Mitzi to Max the first time was unsuccessful and so a long nine months later we tried with semen frozen when Max was six years old. This resulted in our first full p/s litter, the B litter born 30th September,1999, There were six pups, four girls and two boys, each with a beautiful harsh p/s coat. The three show pups from this litter were Baxter ( CH Munchener Baron von Mima) Wastl ( CH M.Bjorn von Mima) and Mima ( CH Bijou von Mima).
Our C litter consisting of five males and five females was born on 27th November, 2000 from a mating of Wastl with Buffy (CH. M. Bjorn von Mima x CH. M. Afrra von Elle CD). Max junior ( M. Claus von Buwa) and Ollie ( M. Cuvee von Buwa) were the only two shown.
The D litter was a repeat of Max and Mitzi, again an AI with frozen semen. One girl and four boys were born on 3.1 02. Among them M. Dolcevita v M who is the mother of our I litter. M. Dazzler von M ( Kazan) has sired a litter with Sanfteriesen Piperheidsk at kennel Riesenstolz and two of these pups have been exported to Jaana Fors in Finland.
In order to keep breeding healthy dogs we knew we had to widen the gene pool and Rüdiger Förste who is a Breed Warden and the representative of Pepper Salt Giants in the Pinscher & Schnauzer Klub (PSK), Germany has been very generous in sharing his wealth of knowledge with us. He also agreed to let us import a male pup from him. Rüdiger was kind enough to keep and train the pup until he was eleven months old and had met all the health testing requirements for import to Australia.This meant the pup only had to spend one month instead of six months in quarantine kennels after arrival in Sydney. Ch.Wotan vom Moisburger Berg CD was born on 24th September, 2001 so in August 2002 Volker and I flew over to collect him. We were finally able to meet Rüdiger and Elke in person and also, again with Rüdiger's help see as many other p/s dogs as possible in the short time we had available.
When he left quarantine Wotan went to live with our daughter Feli and he found in Buffy a new 'mother' who would take no nonsense and taught him manners. They have since become the best of friends. He made a huge impression in the show ring and soon had his Australian Champion title.
On 26th September 2003 our E litter was born. Wotan x Mitzi , 3 males and 8 females.
Erle ( Munchener Echo of Erle ) has gone back to Rüdiger in Germany and had a litter ( B Litter vom Moisburger Berg).
Elektra has gone to our very good friend Camilla Johansson in Sweden.
Lola (Ch M. Empress Evita) has had a very successful show career with Jo Yeowart in Perth and will hopefully be the dam of our K litter.
Enipink ( Ch Enigma) lives with us and has the most loving nature. She is a female version of her father Wotan and a fraction too tall for judges to like.
The F litter, born 11th May 2005 was from a mating of Wotan x Mima. Four males and three females. Unfortunately we found no show homes for this litter and had no room to keep a new pup. We do not have kennels and all our dogs live in the house as part of the family. We live on the Sunshine Coast in Queensland about 2 hours north of the capital Brisbane. We have about 4.5 hectares ( just over 11 acres), the front yard of 4,000 square metres (about one and a half acres) and a back paddock of about the same size are fenced off so the dogs can safely run.
I know if we want to maintain this breed we have to widen the gene pool and increase the number of healthy dogs but my major problem with bringing pups into the world is finding suitable homes for them.
As I mentioned before concerning our first mating of Max, being the only p/s dog in the country, to a black bitch, we have no restrictions in Australia about cross colour mating.Therefore, in order to widen the gene pool we mated Mima the next year to a black dog .The resulting G litter born 11 April 2006 was all black but carrying the p/s gene.
Thank you to Mr Petri Talvinen for allowing us to use his boy "Goofy" as stud. "Goofy", aka Australian Grand Champion Refrain All - Star, was imported from Finland and is a son of Int Ch.Stablemaster's Northern Hope. Goofy had already sired a litter in Finland and most of these pups had already been Xrayed with excellent results for HD so we felt confident in choosing him as a sire.
One of these pups, Munchener Glory in Black, has gone back to Finland to our friend Jaana Fors. M. Guy in Black was shown with a lot of success until his owners were transferred interstate. Sadly, our pick of the litter girl "Gretel", living in a show home was run over in an unfortunate accident .
Another way to increase the gene pool is to import new bloodlines and our very good friend Camilla Johannson helped us here by agreeing to send us two of her pups. We decided to bring two pups out together as we thought it would be less stressful for them to share a crate for the flight and then be together in the the same pen in quarantine. Coming from Sweden, a rabies free country, they were required to stay only 4 weeks in quarantine.On 16 July 2004 Dart and Dacki arrived in Australia and after weekly visits and mini training sessions with Feli they came to live with us. Both obtained their Australian championship titles easily and Dacki in particular has been very successful under overseas judges.
We imported frozen semen for Dacki from International Ch Ustinov vom Moisburger Berg. I had admired Usti when I first met him when we went over to collect Wotan and then again when I saw him in Dortmund at the World Show in 2003. Unfortunately this AI resulted in only one pup weighing in at only 198gm. Ch.Munchener Herzerl von Usti was born 30 September 2006. She has the most perfect harsh, clean coloured p/s coat any one could wish for. Perhaps because she was a singleton pup, Herzerl believes the whole universe revolves around her.
The I litter, born 17th March, 2007 was from a mating of M.Dolcevita v M and Altibo's Barre . Barre has a lovely nature and comes from strong working lines.He was imported by Jo and Dave Karijoki White from Sweden from Camilla Johannson . There were four males and four females. M. Idefix von DB and M.Isadora von DB are being shown.
Our youngest litter is the J litter. Dacki and Tom are the parents.Tom (Wojewoda Champagne Pop) is a grandson of our original Max through one of his black daughters, Reisenhund My Girl. He has a wonderful temperament and is a ball of muscle from running kilometers every day with his sulky. His owner, James Walsh, makes these sulkies and exports them world wide. Wotan and Buffy are now also learning to pull their sulky. It is a great form of fun and exercise for our giants.
This J litter was born 19th August 2007 and was 2 females and 3 boys. M. Jesse James, M. Joie de Vivre and M. Jeanie Jumaana are being shown. Jeanie has had a very successful show career from the beginning with In Group and In Show wins from the minor puppy and puppy classes.
We hope to be able to import more frozen semen from Europe in the future and to continue to breed with the aim of producing healthy Pepper Salt Giants af sound temperament.
I am a member of the following clubs:
Schnauzer Club of Queensland
Schnauzer Club of NSW
Schnauzer Club of Victoria
PSK Germany
Before the advent of the internet in order to gain as much information as possible about Giant Schnauzers and particularly the pepper salts, I was also a member of the Giant Schnauzer Club of America and the Giant Schnauzer Club of England.
All our dogs have an eye test (valid for 1 year only) before mating. We also have hips and elbows Xrayed using the conventional and the PennHIP methods. We also send the Xrays to the PSK to be evaluated there and so feel confident in comparing the scores from the different methods.
At the time of writing this, June 2008, Feli and I are looking forward to travelling to Germany and Sweden and attending the world show in Stockholm.We hope to see many good dogs and catching up with old friends and perhaps making new ones.
Giant Regards.
Yvonne Hopf
Munchener Giant Schnauzers